"The White Queen" on Blu-ray!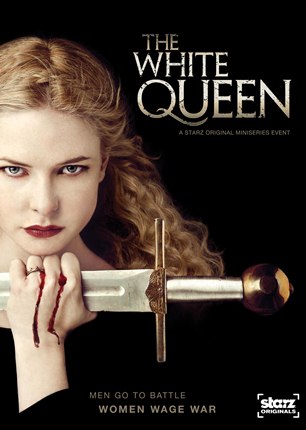 Get ready for a truly royal battle of wills. Anchor Bay Entertainment releases the acclaimed Starz Original mini-series "THE WHITE QUEEN" on a three-disc Blu-ray™ with Digital HD Ultraviolet™ and DVD set February 4, 2014 - allowing consumers to watch it anywhere, on any device, any time! Based on Philippa Gregory's series of best-selling novels, "THE WHITE QUEEN" is a vivid re-telling of the classic War of the Roses family feud (York vs. Lancaster) from the viewpoint of the women involved. The set contains all 10 gorgeous episodes of the drama, plus a bountiful supply of bonus features. SRP is $59.99 for the Blu-ray™ with Digital HD Ultraviolet™ and $49.98 for the DVD.

"THE WHITE QUEEN" is a riveting portrayal of one of the most dramatic and turbulent times in English history. A story of love and lust, seduction and deception, betrayal and murder, it is uniquely told through the perspective of three different, yet equally relentless women - Elizabeth Woodville, Margaret Beaufort and Anne Neville. In their quest for power, they will scheme, manipulate and seduce their way onto the English throne.

The year is 1464, before the Tudor dynasty ruled the country, and war has been ravaging throughout England over who is the rightful King. It is a bitter dispute between two sides of the same family, The House of York and The House of Lancaster.

The House of York's young and handsome Edward IV is crowned King of England with the help of the master manipulator, Lord Warwick "The Kingmaker." But when Edward falls in love with a beautiful Lancastrian commoner, Elizabeth Woodville, Warwick's plan to control the throne comes crashing down. A violent, high-stakes struggle ensues between Elizabeth, her most fierce adversary, Lancastrian Margaret Beaufort, and Anne Neville, the pawn in her father's power game - each woman vying for the crown.

Bonus Features:

The Making Of THE WHITE QUEEN
Series Overview
Book To Series
The History Behind THE WHITE QUEEN
THE WHITE QUEEN: Set Tour
Queen Elizabeth
The King
The Heir Apparent
Woman In A Man's World
Conjuring Up The Queen/Magic
Dressing The Queen/Wardrobe

"THE WHITE QUEEN" stars Rebecca Ferguson (A One Way to Antibes) as Elizabeth Woodville, Max Irons (The Host) as Edward IV, Golden Globe® winner and Academy Award® nominee Janet McTeer (Albert Nobbs) as Elizabeth's mother Jacquetta Woodville, James Frain ("The Tudors") as The Kingmaker and Amanda Hale ("The Crimson Petal and the White") as mother to Henry Tudor, Margaret Beaufort. The series also stars Faye Marsay as Anne Neville, David Oakes as George, Duke of Clarence, Eleanor Tomlinson as Isabel Neville, Aneurin Barnard as Richard, Duke of Gloucester, Ben Lamb as Anthony Rivers and Tom McKay as Jasper Tudor.

Enter to win!

Thanks for visiting EDGE!
Click here to learn about the 365 Gifts Promotion »