"2 Guns" Blu-ray/DVD Combo Pack!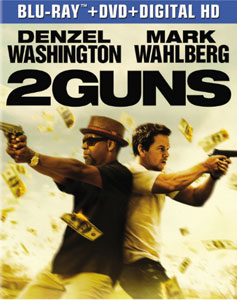 Denzel Washington (Safe House, Flight) and Mark Wahlberg (Contraband, Ted) star in 2 Guns, an adrenaline-fueled picture that tracks two operatives from competing bureaus who must team up for their mutual benefit and survival. 2 Guns will be available on Digital HD starting November 5, 2013, two weeks before it's available on store shelves. Fans can own the movie on Blu-rayTM and DVD as well as rent it On Demand starting November 19, 2013, from Universal Studios Home Entertainment.

When an attempt to take down a drug cartel blows up in their faces, two undercover operatives are forced to go on the run together, though neither knows that the other is a federal agent. Suddenly, everyone on both sides of the law wants them dead, and their only hope is to trust each other. Filled with non-stop action and suspense, critics are raving "Washington and Wahlberg are at their very best" (Pete Hammond, Movieline).

Also featuring Paula Patton (Mission Impossible-Ghost Protocol, Baggage Claim), Fred Ward (Sweet Home Alabama, Tremors), James Marsden (X-men series, The Butler), Bill Paxton (Apollo 13, "Big Love"), Andrew Cosby ("Eureka"), and Edward James Olmos ("Battlestar Galactica," Blade Runner), 2 Guns will take you on one highly charged thrill ride.

http://www.2guns.net

Enter to win!

Thanks for visiting EDGE!
Click here to learn about the 365 Gifts Promotion »